Henry B. Walthall: Biography--Escaping "Poverty Row"
A Tribute Page to the Silent Film Star
Escaping "Poverty Row"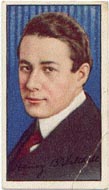 Cigarette card, circa 1916.
Note: I spent a lot of time and care writing this biography and tried to reference every source I used so, if any visitor finds a use for any of the information here or on the other pages of this site, please note this source. Thank you, M.W.

While The Birth of a Nation assured Henry B. Walthall's place in motion picture history, it did not assure that he would be on top of the film acting world through the rest of his career. From 1914 to 1916, however, Walthall was as popular, if not more so, than any other player on the silent screen. On the back of a period cigarette card (circa 1916) is stated that "Mr. Walthall is probably seen in more pictures and places than any other screen artist [and] is considered by many the best actor in the motion picture world to-day." Fan magazines of the time sport similar praises. One is shocked to see Walthall ranked a lowly 19th in the 1916 article "The Twenty Greatest of Filmdom" (Grau, pg. 181). Perhaps a readers' poll in the same issue is more indicative of Walthall's popularity at the time. He ranked a close #2 (19,760 votes to Earle Williams' 19,920) for his role in The Birth of a Nation as well as being listed four additional times for other parts, including over 14,000 votes each for his performances in Ghosts (#18) and The Avenging Conscience (#7) (pp. 179-80). At the zenith of his work under D.W. Griffith, Walthall earned the princely sum of $175 per week (Katchmer). The profession he once derided had made him a very wealthy and famous man.

Walthall left Griffith following The Birth of a Nation. Several reasons are given for his departure: uncertain health caused the actor to stay in California rather than follow the director back to New York (Rankin, pg 96), he wanted to strike out on his own (Franklin, pg. 241), or he was encouraged to leave because no obvious role was available to him in Griffith's next big budget film, Intolerance (Slide II, pg. 402). Whatever the reason or reasons, Walthall's decision to leave Griffith had an adverse effect on his career. As one author observed, "His career, which undoubtedly would have developed along the spectacular lines of those of Lillian Gish, Mae Marsh, and Richard Barthelmess, came to a sudden standstill, and he wasted a decade in interesting but minor films quite unworthy of him" (Franklin, pg. 241).

Walthall starred in a few more classics in 1915. The horror film Ghosts gave the actor a chance to top the physical/psychological breakdown scenes of The Avenging Conscience as a man who inherited his father's debilitating disease. In the late spring of the same year, Walthall joined the declining Chicago-based Essanay company (Slide II, pg. 402). His best portrayal for Essanay was that of Edgar Allan Poe in The Raven. An ardent reader of Poe's works since childhood, Walthall played the troubled soul more convincingly than probably any other actor could. The following year, Walthall starred or co-starred in several films that received much attention including The Sting of Victory, The Truant Soul, and the serial The Strange Case of Mary Page.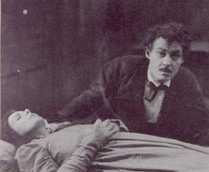 As Edgar Allan Poe in Essanay's The Raven.
The years 1917 and 1918 were pivotal for Henry B. Walthall, both professionally and personally. After a two-year stint in Chicago with Essanay, Walthall vowed to move away from the bizarre, morbid roles that made him famous beyond the "Little Colonel." "Never again!," Walthall asserted to an interviewer in 1917, "If I can make a living otherwise, I will never play a dope fiend again, or a booze fighter, or a man with a portable soul. I'm off that stuff for life, if I may be allowed to revert to a very expressive slang phrase. I suppose it was all right in the beginning. It was something new and different from the sort of screen pabulum that was provided in those early days...Perhaps it was the great war with its attendant sorrows that brought about the changes in the attitude of the screen patrons [Walthall's brother, Junius, was wounded in the war] or, maybe they just naturally sickened of grief and morbidity as a steady diet. At any rate the ban is on that form of drama and I hope for good" (Cohn, pg. 32).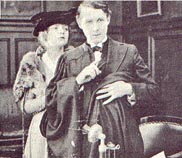 In His Robe of Honor.
Along with this change in attitude regarding future character portrayals came, in 1918, a change in companies. Walthall started his own company Henry B. Walthall Pictures Inc. under the aegis of Paralta Plays, Inc. (Walraven). His Robe of Honor and Humdrum Brown resulted from this independent undertaking. Walthall had the leading roles in both films under the direction of Rex Ingram; however, neither film met much success. That same year, Walthall found himself reuniting briefly with D.W. Griffith in the forgotten film The Great Love, co-starring Lillian Gish. Critics did not receive the film well and faulted Walthall's acting as "over-melodramatic" which, according to Anthony Slide, "is possibly the reason Griffith decided not to use him again until the coming of sound" (Wagenknecht and Slide, pg. 101). Since the film is "lost," one cannot see for one's self whether the critics were fair in their assessment.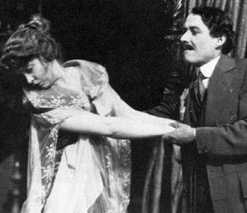 Being "over-melodramatic" in The Great Love.
Lillian Gish is the victim.
Privately, Walthall also made a couple of life-changing decisions between 1917 and 1918. While in Chicago, he filed for divorce from his first wife of ten years, Isabelle Fenton, on the ground of desertion. Fenton was an actress of the stage who probably never ventured into film. No additional information on this woman can be found. A clipping from an unknown movie magazine states that the couple had been estranged since March 1917. Accounts of his life with the Biograph company include no mention of a wife. Certainly she would have accompanied him at least on several occasions. One may speculate that this estrangement first occurred years before, perhaps when young Henry was a struggling stage actor; however, documented hints as to the couple's relationship are yet to be found. What is certain is that, soon after the divorce, Walthall married Irish actress Mary Charleson. They appeared together in several productions before Mrs. Walthall gave up her acting career to support that of her husband. The Walthalls' first and only child, daughter Patricia, was born in 1918. By all accounts, their marriage was a happy one. Mary took active charge of Henry's business and personal affairs, giving the actor more time to concentrate on his craft (McGaffey, pg. 33). Henry also rehearsed his lines with Mary and she often accompanied him on movie sets. One admirer of the couple commented, "It does one good, in these hectic days of the 18th Amendment [the dreaded Prohibition, of course!], knee-length skirts [was the complaint that they were too high, or not high enough?], suffrage, national politics, and the usual 'cussedness' of the century, to meet two people who are as sane, as wholesome and as well-balanced as Mr. and Mrs. Walthall" (Gaddis, pg. 39).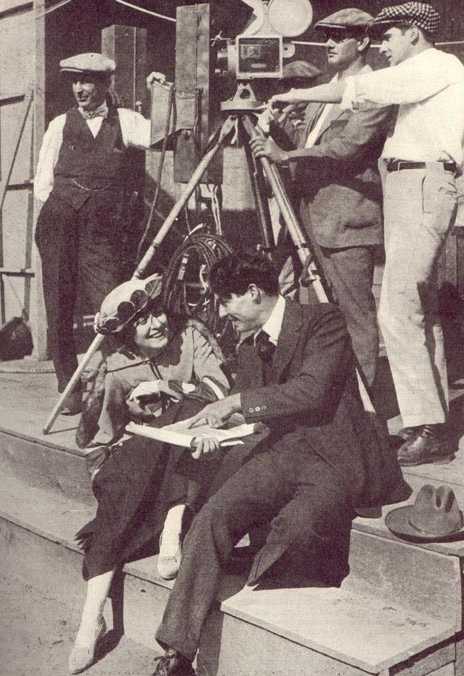 A "wholesome couple": Mary Charleson and
Henry Walthall going over a script.
While Walthall's family life seemed to be stable, his career was in rapid decline as the motion picture world prepared to enter the "Roaring Twenties." Walthall had two leading roles in suspense-filled dramas at the turn of the decade in The False Faces (1919) and The Confession (1920). In the former, Walthall played Michael Lanyard, "The Lone Wolf" from the Louis Joseph Vance pulp fiction novels; in the latter, Walthall played one of those dreaded men of the cloth who sets out to save his brother from the gallows without revealing the confidentiality of the real killer's confessional. After these, roles of distinction were few and far between. Important films in which he had bit parts during the 1920s include Clara Bow's The Plastic Age (1925) and Wings (1927), the latter of which won the first Academy Award. Notable films in which he had larger roles include One Clear Call (1922), The Barrier (1926) with Lionel Barrymore, The Unknown Soldier (1926), a reunion with Lillian Gish in The Scarlet Letter (1926), and the Lon Chaney films The Road to Mandalay (1926) and the "lost" London After Midnight (1927), the latter achieving cult status due to Chaney's over-the-top vampire stills. Such production seems impressive; however, it was still a far cry from 'Wally's' days with D.W. Griffith.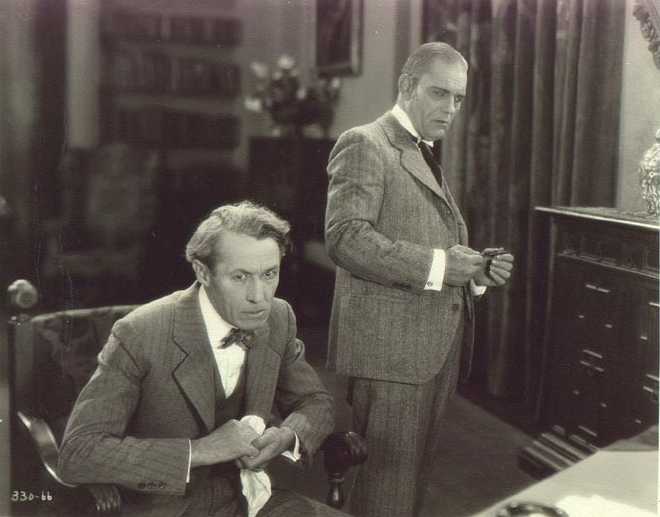 With Lon Chaney in the "lost" cult classic London After Midnight.
The movie magazines picked up on this dry period of Walthall's career. In a 1926 issue of Motion Picture, Walthall is pictured among others like Francis X. Bushman in the article "Poverty Row": "It's a strange place, Poverty Row--gray with disappointment and bitter with failure, yet shot through with the golden gleam of hope. Work, work, work! Those going up work eagerly. The Will o' Wisp, ahead, beckons. Those, coming down, work doggedly, for bread--or gaily, for bravado--or sullenly, for shame--and those who are climbing up a second time, work silently. It is harder the second time, because in failure, they are burdened with the memory of success." Still, on the "mythical ladder in Poverty Row," Walthall was an actor who was "climbing up again" (Benthall, pp. 26, 113). As late as 1932, Walthall is again pictured among others of various occupations who have seen declining fame. This time the word for it was "Fade-out;" in Walthall's case, fading from "star to extra" (Parton, pg. 18).

Although, Walthall's star was fading, he still had the magic to capture the imagination of 12-year-old John Griggs. After seeing The Confession, Griggs began a life-long devotion to the actor who "worked his sorcery as he played a Catholic priest" (pg. 118). In 1922, Griggs saw Walthall playing a dual vaudeville stage role as a French father who believed his son had fled the French Army in an act of unforgivable cowardice and then, later, as the spirit of the Unknown Soldier--his son. Griggs admitted that "following Walthall in the 'twenties was difficult" (pg. 119). The young fan, who was also an aspiring actor, undertook treks to out-of-the-way theatres to watch the master in bit roles. Once Griggs was so distraught after seeing that Walthall's part in DeMille's Golden Bed made up only a few seconds that the operator cut him a few inches of the scene (pg. 119). Later, Griggs collected 35 mm prints and, in the 1940s, played The Confession to an audience of teenagers at a local Catholic school. According to Griggs, "after the show, when we collected our six hundred questionnaires, not one teenager had noticed the infirmities of this old silent picture. One teenager wrote: 'I have never seen a silent picture or heard of Henry B. Walthall but I'll never forget his face'" (pg. 121). One shudders to think what the reaction of today's teenagers would be.

A 1928 premiere for a starring theatre performance (his first in eight years) showed that Walthall could still pack them in. D. W. Griffith was master of ceremonies at the Grand Avenue Playhouse in Los Angeles for the premiere of the play Speakeasy (also to be an early talking motion picture). The entire theatre was decorated in Walthall's honor and the reservation list included such names as Pola Negri, Alan Hale, Lon Chaney, Greta Garbo, Mary Philbin, Harry Langdon, Edmond Lowe, Mack Swain, and Charles Chaplin (Los Angeles Record, March 19, 1928).
To most people outside the movie business who remembered him, however, Walthall was still the "Little Colonel." Featured interviews with the actor during this dry spell usually consisted of him going down memory lane (15-20 years down it anyway, which must have seemed a lot longer ago then than such a span of time is regarded today), discussing the good ol' days of the Biograph company or actors and actresses he worked with, such as Mary Pickford (Donnell, Kingsley). Curiously, in one of these issues where Walthall was "remembering when," The Birth of a Nation was voted "Most Popular Picture" ten years after its release. In 1928, director Percy Knighten went so far as to name his film starring Walthall The Little Colonel in what a reviewer from an unknown clipping source claimed was "a sad attempt to repeat Henry B. Walthall's success in 'The Birth of a Nation.'" This film no doubt is lost and does not even appear in Walthall's filmography. Perhaps there is a reason as the reviewer goes on to add that "Knighten is no Griffith." Still, although many of Walthall's films during this period were not received with enthusiasm and are largely forgotten today, those who reviewed films like Light in the Window and The Phantom in the House, usually discovered at least one positive element: Walthall's performance. Comments such as "H. B. Walthall acts very well. The others are good enough to pass" (review for The Phantom in the House) or "bad script, but our old friend Henry B. Wallthall registers neatly" (review for the Warner Brothers Vitaphone short Retribution) were not uncommon. Walthall kept climbing to reclaim his place among the top film actors. Not a year went by without Walthall appearing in at least a few pictures. A 1930 photo from an unknown source has the following caption: "Today Henry B. Walthall plays small roles in the talkies, forgotten by the newer generation, But, to the older, there will never be a screen actor so compelling, so romantic, so lovable. To him--the little colonel of "The Birth of a Nation"--this page is dedicated." These "small roles in the talkies" were the beginning of new found fame for the "Little Colonel."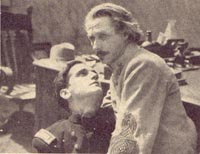 The Little Colonel: The Movie! Possibly the lowest
rung on the "mythical ladder" in Poverty Row.
Viva Sound!
Many have read the stories of how a silent movie star's career went south after the emergence of sound because his or her voice was not suitable for the talkies. Usually, even in the case of John Gilbert, such stories were myths. In Henry B. Walthall's case, however, the opposite held true. His stage-trained voice, rich and clear, proved perfect for authoritarian roles. Walthall often played fathers, uncles, lawyers, professors, and, yes, those dreaded ministers. Like most actors of the silent period, Walthall was skeptical about the new talking pictures: "I think that silent acting is much more difficult than the talking screen acting. You must put so much into your face and gestures in the silent pictures. In speaking lines, too, you drop all expression. Talking pictures lack effectiveness for that reason" (Kingsley, pg. 103). But the Talkies would "rediscover" Walthall and give him the opportunity to do what few motion picture pioneers achieved: find fame in both silents and sound.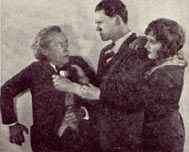 That's no way to treat a little colonel!
Getting roughed up in the early Talkie Speakeasy.
At the beginning of the Talkies, Walthall still usually played bit roles, sometimes alongside legends before they were legends, like John Wayne (Ride Him, Cowboy), Spencer Tracy (Me and My Gal), and Clark Gable (Men in White). He also made a brief, but memorable, appearance in D.W. Griffith's first Talkie Abraham Lincoln. In the minor production Police Court, Walthall enjoyed one of his few leading roles of the Talkies. He incorporated "expression" to his speaking role, especially in the death scene. Walthall's character was pathetic; a former star whose life has unraveled due to drink. He resorts to dressing up like Lincoln and other Civil War figures reciting speeches in a sleazy carnival--hardly the hero he was in The Birth of a Nation. In Hollywood terms, his time as a screen idol had past. Although still extremely handsome and better looking than most of the leading actors of the day, he had aged considerably through the years. But heroes come in different packages, and Walthall still had the ability to steal the show.

The first role in the talking pictures that gave Walthall the recognition he deserved was as Francisco Madero in Viva Villa! (1934). "The Little Colonel Marches Back" declared an article celebrating Walthall as the compassionate revolutionary leader. "You cannot call it a comeback," the actor pointed out, "because I have never really been away" (Rankin, pg. 70). The role gave Walthall "a new lease on life," but his greatest talking role was soon to come (Williams).

The film that catapulted Walthall completely out of "Poverty Row" and placed him firmly on a respectable platform in the acting field was Judge Priest. Alongside Will Rogers, Walthall was the Reverend Ashby Brand (yet another minister). His was a character role, but it became far more than that. Judge Priest was the one film of the sound era--not of the B-picture variety--that gave Walthall the chance to steal the show at the end. He seized this opportunity with relish. When the closing credits ran, the viewer was left with a dominant impression. The film was no longer about Will Rogers' character, the character on trial, or Stepin Fetchit's character; it was about Ashby Brand's moving 10-minute speech that tipped the scales in the case of a former Confederate soldier. "I felt that the role had such dramatic possibilities that I expended every ounce of energy in making it alive," Walthall explained, "I consider the part one of the best I have ever played, regardless of length, and that is the reason I became so enthusiastic in this interpretation" (Williams). Walthall signed a contract with Fox within 24 hours of his courtroom scene. Praise from fans and Hollywood people soon followed. "During the past few months my fan mail has increased to very satisfactorily proportions," Walthall beamed, "My wife and daughter are as delighted as I am" (Williams). The "Little Colonel" was the hero again.



The hero again: Ashby Brand.
Several interesting films followed Judge Priest, including A Tale of Two Cities with Ronald Colman and Dante's Inferno with Spencer Tracy. China Clipper in 1936 offered Walthall another exciting opportunity. Walthall played airplane engineer Dad Brunn who is pushed to the limit by a man obsessed with starting a trans-Pacific mail route. Brunn was a pivotal role and Walthall received much air time during the first half of the film. His character, however, suffered a sudden demise. Walthall, himself, collapsed. Ill from the beginning of the production, Walthall soldiered through the scenes until it was obvious that he could not finish the role. According to the obituary in the San Francisco Chronicle, Walthall was working at the Alameda base of the Pan-American Airways under the constant care of a nurse. When his condition worsened, Henry was brought back to his home to the San Fernando valley via boat. After a few days, physicians had him transported to the Pottenger Sanitarium at Monrovia. He failed to respond to treatment and died at around 5:35 a.m. on Wednesday, June 17, 1936. Two accounts state that his wife and daughter did not arrive in time to say their good-byes. The Los Angeles Times, however, noted that his family visited him the day before. Approximately three weeks passed between leaving for home and his death. Ironically, his illness forced Walthall to stop work before his own character was to die in the film. The script was altered, and Dad Brunn died off camera. This time his illness was given a name, albeit ambiguous: intestinal influenza exacerbated by a nervous condition and an exhausting string of uninterrupted film work.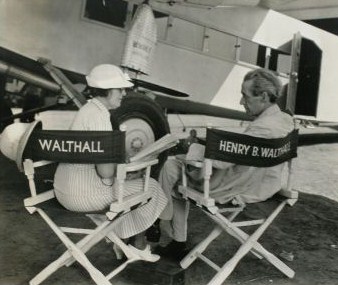 Henry rehearsing his lines with wife Mary on the set of China Clipper


The uniform still fits: Henry back in Confederate grey
for Judge Priest with daughter Patricia. From the
Los Angeles Times obituary, June 18, 1936, pg. 10.
Henry B. Walthall was many things: an actor, of course, but a hunter, an avid reader, a dedicated Mason, a southern gentleman and, above all, a good person. His philosophy, according to brother Wales, was to "be worthy of the regard of mankind" (Griggs, pg. 124). He certainly was. Upon hearing of 'Wally's' death, a shocked D.W. Griffith made the following comments: "I don't know whether you could call him a great actor, but this I am certain--he had a great soul. It is given perhaps to many to have great souls; it is given to only a few to be able to express that soul to the entire world by means of an expressive face and body, as Henry Walthall did in The Birth of a Nation. Of course, the world doesn't know and doesn't bother much about that sort of thing, but he had a poet's imagination and a beautiful face that could express the soul and imagination he possessed. He was a gentleman, and, as Hollywood puts it, 'a sweet guy.'" (Slide II, pg. 403). We are lucky to be able to see Walthall's "soul and imagination" in some of his best roles like The Birth of a Nation and Judge Priest, which are still available for present and future generations to enjoy.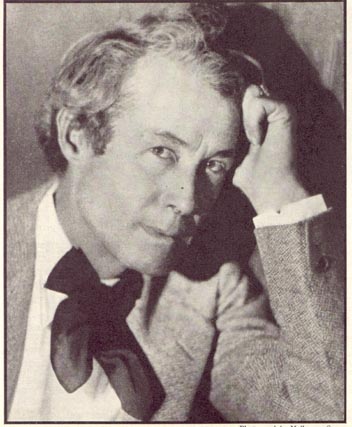 My favorite photo of Henry Walthall (sigh)


Please see the Bibliography pages for details on the references used in this biography.


Free Counter