Analysis


Warren, the Real "Eagle Eye"



"Eagle Eye" Warren with
measuring tape at the ready.




Some may mock Warren for being such a stickler for the rules, but he was doing his duty in providing for the safety and protecting the moral fabric of the town and, in fact, found violations his predecessor "eagle eye" Barney Fife missed. First, Goober's blatant disregard (or, more likely, just plain ignorance) for public safety in tossing his oily rags in a large barrel created a very serious fire hazard. Spontaneous combustion is a dangerous possibility that many people do not realize. Those greasy rags may have led to Wally's service station going up in flames. If that were to happen, where would the folks of Mayberry get their free air and water, not to mention gasoline (they have to charge for that)? Warren probably helped prevent a major disaster for the town. It is curious that Barney did not inform Goober of the proper way of handling greasy rags. Maybe Barney missed it or was unaware of the danger. Perhaps Warren was more observant and informed (yes, that's it!).


Secondly, Mayberry was a very conservative town. It was a dry county and, we can assume, was just as strict on gambling. Warren had strong moral convictions against the practice ("remember Chicago in the '20s?") and thus fit right into Mayberry society. One may argue that bingo is not gambling but Barney Fife himself once singled out the game as a blatant example of such an act. In the episode Andy and Opie's Pal, Barney told Andy about a complaint Gomer had regarding a gimmick at Pearson's Sweet Shop where, if a patron purchased a peppermint with a colored center, he or she could win more peppermints or even a flashlight. Gomer kept finding white centers and informed Barney. Barney suspected deception on the part of the merchant and mentioned to Andy that there must be a law against such a scam. Andy responded that there were also laws against gambling (hmmm, so Andy considered the peppermint game to be gambling). Barney replied, "Oh, come on Andy, now that's not really gambling; I mean, it's not like bingo or something like that." So, Barney would be on Warren's side on this matter but, like with the greasy rags, Barney's "old baby blues" must have missed a blatant display of gambling at a popular social function as, we are to assume, the bingo games at the ladies' auxiliary bazaars went on until Warren came to town. It seems someone was shirking his duty. And a sidenote: Warren was even more professionally attired than Barney, with his shoulder strap always secured.




Warren and "Women's Lib"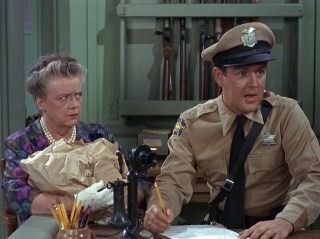 If looks could kill:
Aunt Bee is unaware of the
opportunities that await her.




OK, Warren did not make many friends in this episode; however, let's be honest, what is more pathetic: Deputy Warren Ferguson steadfastly holding to his principles or a group of men who cannot even cook their own dinners (Uh...if all else fails, they are called cereal, milk, a bowl, and a spoon)? What these lady jailbirds (not to be confused with Lady Bird) did not realize was that Warren was actually helping them break the shackles of the kitchen. It is understandable that these ladies did not realize the opportunity offered to them. In 1965, Betty Friedan's The Feminine Mystique had only been on the shelves two years and, no doubt, any book stores in Mayberry would not have carried it. The "women's lib" movement that would prompt such progressive achievements in the 1970s as "equal pay for equal work" was still in its infancy. Warren may have been an early women's libber! Of course, most of the women in the auxiliary were middle aged or older and probably set in tradition; however, at least the men they served might appreciate them more when they were forced to fend for themselves for a while. Their jail time provided evidence for these ladies to demand compensation for their work and greater respect in their socially conservative community. They probably did not take advantage of the golden opportunity Warren provided them.




Inspiring Goober
to Intellectual Greatness


Warren may have been unable to encourage the auxiliary women to break the bonds of their male oppressors; however, he was able to inspire another character to greater intellectual achievement. It was Goober, of all people, who gave Andy the idea on how to solve the situation. Goober admitted to discussing with Floyd the possibility of a jury trial for the ladies. Goober talking about something other than motors and Floyd talking about something other than the sayings of Calvin Coolidge is impressive enough; but Goober and Floyd arriving at the unpopular but well-reasoned conclusion that "I bet if there's a trial, Warren's side would win" is incredible! Warren would recruit Goober's help several times during his 11-episode stint in Mayberry. Alas, Warren never again inspired Goober to such astute mental feats; however, for one flash moment during The Bazaar, Goober was an intelligent and informed citizen.




Andy's Mid-Life Crisis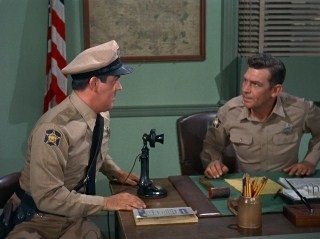 "I'll kill ya!":
Andy threatens his deputy.



Andy's demeanor needs to be discussed. Granted, Andy always had a temper. Many times he lost his cool over some of Barney's shenanigans; however, I only recall one time Andy verbally threatened to "kill" his high-strung yet wiry deputy (in the episode The Fun Girls). He said it quietly out of the corner of his mouth as he and Barney were leaving to the dance with "The Fun Girls," Helen and Thelma Lou having gone to the dance with two other fellows (Goober and Gomer) when they believed Andy and Barney were two-timing them. It was a side-bar half-threat (a figure of speech, really) and certainly not made with the kind of malice used here. In The Bazaar, he used the word "kill" when admonishing Warren on two occasions; the first time, it was used as an obvious reference (in the scene where Warren mentions he has read all the Perry Mason stories, Andy tells him he may have missed "The Case of the Pig-Headed Deputy Who Was Killed By a Berserk Sheriff") and, the second time, as a direct threat. Andy almost never resorted to violence; yet, here again, he broke a window with a thrown rock demonstrating a more serious fit of rage than those exhibited by Ernest T. Bass.

I can draw one conclusion: Andy was suffering from a mid-life crisis during Warren's tenure as deputy. Andy Griffith was 39 when this episode originally aired, so I will assume Andy Taylor was also approaching the big 4-0. Nearly 40 and still living with Aunt Bee must have finally taken its toll on the sheriff. Opie was growing up fast which probably added to his depression about getting older. Even more of a contribution to his emotional strain were the years going out with stuffy Miss Crump. Helen seemed a bit of a prude which could only have caused Andy years of amorous frustrations.


Andy was definitely in a rut and here comes this new handsome, young, robust deputy who, unlike Barney, does not owe his career to Andy. He admitted in The Bazaar to being deputy at several sheriff offices before Mayberry; thus, he had much more experience than Barney did when "Fife the Fierce" started his career on Andy's force. He was also ambitious and not against holding to his ideals even when they were contrary to the way things went in Mayberry. Maybe Andy wished he could trade places with Warren and be a handsome, young go-getter with no one tying him down and with a promising career in front of him. Whatever his feelings, they came out as pent-up rage finally finding its safety valve in the Mayberry newcomer. Andy's extreme mood swings exacerbated Warren's strict policing style [the same style the beloved Barney used for years] in the eyes of Mayberry residents. The people of Mayberry, therefore, never fully accepted Warren as part of their community, despite his relation to Floyd, thus hastening his exit.




The Huh? Huh? Huh? Factor


Many of the Warren-haters claim that Warren was an annoying character and over-did the "huh?-huh?-huh?" gimmick. It is possible that, to some of the more easily irritated viewers, Warren's scene with Aunt Bee, Opie, and the grocery bags might be just a tad bit annoying (but in the most adorable way, of course). This scene was Warren's first on TAGS and the character's habits and traits were being introduced to the audience and were, therefore, exaggerated. In fact, such can be said for the entire episode. Warren would not interrupt people and use his "huh?-huh?-huh?" line as often in future shows as he did here. Warren will soon settle down. To prove this hypothesis, I have created a "huh-dometer" to record how many times Warren said "huh?" in each of his 11 episodes. The counters are posted after each episode's synopsis. Those who made up their mind about Warren after only watching his debut did not give Warren a fair chance. Well, better late than never; you know what I mean, huh?-huh?-huh?




Trivia for the Obsessive Warren Watcher





Warren and the box of sugar.
DVD time 3:13.




Warren and the box of sugar.
DVD time 3:23.





Notice in the grocery bag scene (DVD time 3:07-4:00) how the blue and white box Warren is carrying is flipped when the camera switches from him to Aunt Bee and Opie. Obviously, at least two takes were pieced together to create this scene.